ASPIRE NOW NEWS UPDATE!
Aspire Now is sharing the latest news update about what's happening in the digital world. 

Here is an article from Xero
New report: How digital connectivity is helping Australian small businesses thrive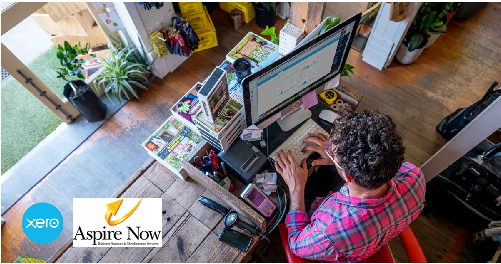 Posted by: Xero David Boyar Oct 9, 2018
David Boyar is a high impact leader and commentator on business trends and the accounting industry. He is the founder of Sequel CFO – Your Financial Mentor, a franchise system that creates new career opportunities for finance professionals looking to help business owners grow as the next phase of their career. He is the is the Co-Host of From the Trenches – Real Life in the Accounting Industry a podcast distributed to 30,000 accountants each week and one of the youngest Chartered Accountants to be accepted as a Fellow CA as well as the founding vice president of the Virtual CFO Association. David is constantly learning and believes education and training is the key to unlocking the untapped value and potential of accountants globally.
The Xero Small Business Insights report on digital connectivity continues to add value to business owners planning their future. This edition allows us to prove the benefits of digital connectivity, the use of business apps, and the impact on businesses who think digital in their problem solving and business planning.
What is the digitization of business?
The digitization of business is either a generational opportunity embraced by businesses with a growth mindset or something else to fear in the seemingly endless changes to modern business.
Digitization effectively means finding apps or using computer processes to complete a business need.
It does away, or at least reduces, manual processes, form filling and paperwork and in doing so measures things in your business that you can then optimize. Often optimize enough, and you can then develop insights to make better business decisions, reduce your work load, or meet growing customer demands.
Do it to enough areas of the business and you have digital connectivity, resulting in more efficient, faster growing and hopefully, more profitable businesses.
For businesses embracing the changes, rewards are already showing.
These businesses often have growth mindset that sees them embrace opportunity.
They use a combination of high speed internet driven by the NBN, connected business apps that allow business owners to work less, grow faster, and work differently
For those not embracing the change it is a combination of education, awareness, fear of change and finding a return on investment, whilst meeting ever growing demands of running a business that are holding them back. Often, these businesses do not have access to the NBN.
Business are growing faster with connected business apps
Only 20% of Nano businesses use business apps but this rises to 44% as a business grows it's revenue. This is partly due to the lower amount of admin in smaller businesses, but the message is clear, business apps are a key to growth.
It doesn't matter what revenue a business is making, business app using business outgrow those not using them. For businesses turning over between $100k and $500k the revenue growth rate is a staggering 86% higher.
Digitisation is more than just saving time, it changes how business works
A typical business with employees has 50-70 tasks to service their customers (core activities) or run their back office (support activities).
63% of business apps used are for core activities. This represents a fundamental change in the way services are delivered and shows a use for business apps beyond merely finding ways to save time.
With this approach to innovation it is not surprising that these businesses grow faster than those not using business apps.
Mental Health Benefit
For many businesses, support activities like accounting, HR and general management is completed outside work hours. Often leading to extra hours worked and less holidays taken. Perhaps the greatest benefit of connected business apps is not faster growth, but the ability for business owners to replace this time with activities that support their mental health.
Australian opportunity
Australia is regularly spoken about as an early adopter of business applications but the pace of change is likely to slow down. This is mostly due to the real barriers businesses face when choosing these solutions. Issues of awareness, trust and digital skills are holding people back but perhaps the greatest reason for businesses to not embrace this opportunity is the fear of change.
The Xero Small Business Insights report has proven the upside of digitization. It not only creates awareness to the benefits of solving business problems with digital solutions, but helps businesses welcome digital change rather than resist it
If you need any assistance in any of the above please do not hesitate to call me or the Aspire Now team on 07-38998062 for assistance.
NOTE: LIKE US ON FACEBOOK AND STAY UP TO DATE CLICK HERE: https://business.facebook.com/AspireNow.PtyLtd/